Marietta Tree Removal Can Help You With Your Tree Problems On Storm Damage
If you're wanting help from a top reviewed Marietta tree removal company you can use the following advice to start you out. Dealing with storm damage is tough work, and you can count on getting the work done fast. It just takes you going through these guidelines first.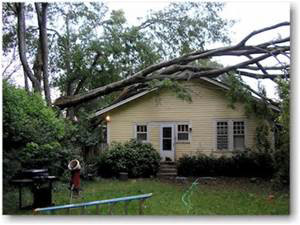 The problem you'll have with your trees is that if they're not taken care of before a storm, they can crash into your home or branches can whip around and do some damage.
You'll want to get a tree service to come out to your property and do what they can to make sure you're not going to have to deal with damage if there's a strong storm by getting rid of problem parts of a tree in a way that doesn't kill it. There is a right way to do this so don't let anyone that's not a professional hack away at the tree.
Sometimes you just can't control it and you will have to get a tree or its branches off of your roof or away from your home after a storm. If your home is damaged, it should be fixed right away so it's not at risk for something worse happening.
For instance, if there is structural damage you will want the tree service to get the tree away from your home and then someone needs to get the structure fixed up again. That way, you're not at risk for the home getting into worse shape by falling apart more.
Don't think that you have what it takes to get a tree off of your home because it may end badly for you. Sure, you may think you can just get a piece of equipment and then grab the tree, but if anything goes wrong and you damage your home more it's going to cost you even more to clean up the mess than it would have to have a professional assist you. By getting a tree company in Marietta that has the right tools and experience to help you there won't be as many risks involved.
It may be that you didn't even have control over the damage because it was a tree that the city or a neighbor has control over and you couldn't get it taken down or made to not be a risk. In this case you'll want to contact who is responsible and let them know they have to hire a tree removal professional that can do the work and get you back to normal. Document everything and get legal help if this is the case so you're not out the money it costs to get everything taken care of so you can get back to normal.
Don't try to live in a home that's damaged until you get the okay from the people helping to fix everything up. Even if it seems to you to be okay, there may be parts of your home that you can't see that haven't been repaired yet. Get the okay from those that are helping fix the damage first and don't rely on just what you think is happening. You don't want anyone to get injured and then that wouldn't be on them because if they tell you it's not safe you need to listen.
As soon as you notice there is damage get everyone out of the home and then get a professional out to help. If you have to stay elsewhere then that's okay to do until they get the problem taken care of. It may not be all that great to have to stay somewhere as your home gets fixed up, but it's better than anyone getting hurt or you ending up damaging your home even more. Generally this kind of issue can be cleaned up fast if the damage isn't too severe, but either way it's better to be safe than sorry.
Remember that SCS Trees can help handle storm damage. There are a number of ways this can be done and you'll want to be clear on what you need to do in case the comes up. Then you'll be more prepared for anything that happens during a storm.  Contact Us today.
---