Tree Services Kennesaw GA
Kennesaw Tree Services Experts
As a home owner, trees provide great shade, add depth and character to your backyard, and can add value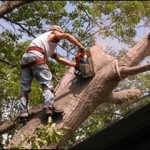 to your home if you are planning on selling it. But, there are a number of situations where in an emergency, or if tree limbs are continually falling, or even if it just doesn't look strong and healthy, you will need a Kennesaw tree service expert like SCS Trees to help you. In these situations, it is always best to hire the professional tree service Kennesaw GA residents can count on.
There is almost always significant dangers and risk involved in any type of tree service or tree removal jobs – especially around power lines or other man-made structures. This is certainly not a "do it yourself" kind of job. You'll want to hire an experienced and professional company that can handle to job quickly and safely, and one that will guarantee their work.
It's also important to look for a tree service company in Kennesaw that can help you with any insurance claims – particularly for storm damage and homeowner insurance claims situations.
When deciding on the tree services Kennesaw GA company to hire, it is important to find a crew that does full service work, and a variety of removal and cleanup services for the home owner. Some services to look for include:
Regardless of the services you need completed, when you hire a top tree service company like SCS Trees, you can rest assured we will do the work quickly, safely and within your budget.
Please contact us now to speak with one of our Kennesaw tree services experts.