Acworth Tree Service Professionals
As a respected tree service Acworth GA company, SCS Tree Service offers a wide variety of services to help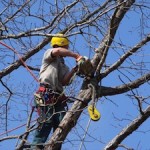 you protect, repair or "shape up" existing trees on your property.
In some cases, you may already be dealing with a tree emergency and need an immediate response. We typically have someone on call 24/7 to talk with you about the situation and come out right away to assess the damage and begin the repair and/or removal process.
Please refer to our Tree Removal Acworth GA page for more info on our tree removal services.
In many cases, you can avoid requiring an emergency tree removal by taking action before there's a problem. Trees with large voids at the foot or that appear to be leaning more than before could be at risk for falling.
Also, mold on a tree, large limbs falling, and/or brown leaves near the top could all be signs of sick or dying trees. And bad trees could put your property and your neighbors' properties at risk.
In cases like these, please don't wait any longer to call us! We'll quickly send an arborist out to walk your property with you and help you get things under control – before any serious damage can occur.
Our SCS Tree Services Acworth GA pros are trained and experienced in storm disaster clean up and mitigation. We work with insurance companies and adjusters every day, and are happy to work with yours to make sure that everything is handled quickly and efficiently.
So please contact us right away to speak with one of our Acworth tree services experts!