Crepe Myrtle Tree Pruning Service
What Are Crepe Myrtles?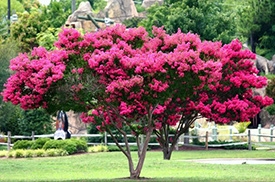 The Crepe Myrtle is considered a large bush or small tree, depending on how it has been pruned as it grows. It grows primarily in the southern states and produces beautiful blooms during the summer. It is also attractive during the fall since the foliage often displays brilliant colors. The size and shape of the Crepe Myrtle is determined mostly by the extent of seasonal pruning that is done.
The Crepe Myrtle does well here in the South because it is heat tolerant, drought resistant and also is not affected by high humidity. A professional tree service will advise you to prune off spent flowers during the summer before new seeds develop. This practice will often produce a second blooming during the later part of the summer.
The bark of the certain species of the Crepe Myrtle is very attractive and showy, so proper pruning of side branches to reveal the tree trunk is important. The Japanese variety of the Crepe Myrtle is a tree that can reach 20 to 30 feet in height with gracefully arching branches. The light green leaves turn a beautiful golden shade in fall while the grey outer bark falls away to reveal an attractive cinnamon brown appearance. Smaller varieties of the plant are categorized as shrubs and their leaves turn a brilliant orange or red at the end of the season.
Most people are not familiar with how pruning affects this tree which has a growth rate of one to three feet per year (sometimes much more!). Knowing which branches and "suckers" to trim is essential in developing the desired shape of the tree. Suckers are the small branches with leaves that grow near the bottom of the tree. If you are a home owner who has a young Crepe Myrtle as part of your landscape, you will want to make sure it is pruned properly to create the size and shape you want.
When To Prune A Crepe Myrtle
The Crepe Myrtle produces "suckers" near its base every year, and if this new growth is not trimmed properly the tree will soon resemble a shrub. If that is the desired effect, leave these new growths to develop until the bush reaches the size and shape you want. If you really want your Crepe Myrtle to develop tree-like characteristics, the suckers must by cut back every year. Our top-rated Marietta tree service team can do this work and explain what is needed for your Crepe Myrtle to develop into the size and shape you desire.
Expert pruning is also necessary to make sure there are an abundance of blooms the following season. Since the tree only produces blooms on new wood, it is essential to remove side branches, twiggy growth and branches that are not growing outward. This pruning is best done in early winter, and the top branches should be cut back to leave a fork rather than an ugly stub.
Some people believe they should cut their Crepe Myrtle bush back to a short stub in spring. This is a mistake since the new branches that grow will be too weak to support the flowers. You can be sure your bush or tree will grow and bloom at its most beautiful potential if you hire a professional tree service to do the work for you.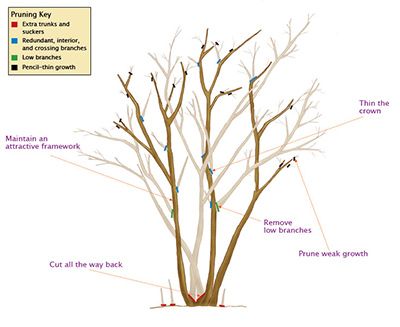 Crepe Myrtles can be affected by powdery mildew, so they should be planted in a sunny location where there is adequate air circulation. While our professional Marietta tree service is able to develop your tree into the form you prefer, they are also able to provide expert advice about how to best care for your Crepe Myrtle and other trees and shrubs growing on your property.
Give us a call today to get a FREE ESTIMATE on our affordable Crepe Myrtle pruning service now so they will look great all winter long and grow back healthy and strong in the spring.