Professional Tree Services at an Affordable Price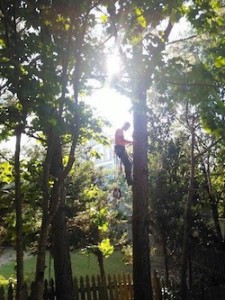 Trees are an essential part of any landscape or garden. Nonetheless, occasionally, they have to be removed in the event of an emergency. SCS Tree Services is a fully insured and licensed tree service firm that has more than 20 years of tree industry experience.
Our Tree Services Include:
Free Quotes — Every project is different, so we price everything on an individual basis. We offer you a comprehensive plan, detailing exactly what we will deliver. All of our quotes will be realistic, accurate and cost effective.
Tree Removal

 – Our tree removal methods depend on the circumstances. Sometimes, we can easily drop a tree where it stands. However, with the majority of our removals, a tree will need to be scaled by a climber, who will take it down in parts. In a worst case scenario, when a tree is too dangerous to scale, our tree removal team will utilize a crane to slice it up into pieces.

Tree Trimming – We will raise the canopy and lower limbs of a tree. Also, we will clean out the sucker growth and deadwood. Throughout the summer, tree trims ought to be limited to a maximum of twenty percent.
Tree Pruning – We clean the inner canopy of secondary growth and dead limbs. This stops the tree from blowing over. This service increases a tree's wind resistance during a storm.
Cleaning is the removal of dead, dying, diseased, crowded, weakly attached and low-vigor branches from the crown of a tree.
Thinning is the selective removal of branches to increase light penetration and air movement through the crown. Thinning opens the foliage of a tree, reduces weight on heavy limbs, and helps retain the tree's natural shape.
Raising removes the lower branches from a tree in order to provide clearance for buildings, vehicles, pedestrians, and vistas.
Reduction reduces the size of a tree, often for clearance for utility lines. Reducing the height or spread of a tree is best accomplished by pruning back the leaders and branch terminals to lateral branches that are large enough to assume the terminal roles (at least one-third the diameter of the cut stem). Compared to topping, reduction helps maintain the form and structural integrity
Grading and Cleanup Services

 — We will take away any shrubs, trees, logs, limbs and tree stumps from your property. Also, we can clear your property for construction (or landscape development) in future. We employ cutting edge technology to deliver your project to schedule, and within budget.

24/7 Tree Service

 — You can call us at any time of the day or night to tackle any 

emergency tree removal 

needs. Our specialist tree service Marietta staff are disaster management experts. Thus, they understand how to deal with insurance companies, to ensure that everything is taken care of for you.
Quite often, there is only the need to trim limbs off of existing trees.  Perhaps there are branches hanging dangerously over the house, or it provides too much shade.  SCS TreeService will help you maintain the health of your trees while applying expert pruning techniques.
Our SCS Tree Services team is the ideal option for any type of hazardous tree problems that need to be addressed professionally and safely. Our knowledgeable tree service staff undergo regular training in new practices and techniques, so they remain up to date with best industry practices. Better still, our expert team will ensure that no harm is ever caused to properties or landscape.
Contact us today for a free quote on any type of tree service!
SCS Trees is a fully licensed and insured Professional Tree Service Co. We offer free estimates and 24 hour emergency tree removal service. Our All-American crew provides honest quality at low prices.
2295 Towne Lake Pkwy #116-255 Woodstock GA 30189 (678) 710-9935