Tree Removal in Marietta, GA
Have you had problems with tree damage from the recent stormy weather in the Marietta, GA area? If this is your story, then you need to call us immediately for our tree removal services, so we can clear it from your property.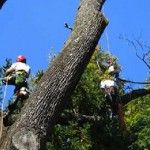 Fallen Trees
If you didn't know this already, having a fallen tree can create potentially hazardous situations for yourself and the people around you. This is especially crucial if your backyard is situated near electrical wires and power lines. If the fallen tree, whether in the form of limbs and branches, is on your driveway, it can damage your vehicles, and maybe even injure passersby and the other people on your property.
Loose Branches
Loose branches that are perilously perched on your roof may initially seem like no big deal. However, did you know that this can cause major damage to your roof? If left alone, you can spend up to thousands in repair. If you see this, you need to call us to have them removed immediately.
What We Do
Whether you have a fallen tree or just some limbs hanging off your roof here in Marietta, GA, the first thing you need to do is to call tree removal experts. You can call our team of insured and professionally licensed tree removal specialists to clean things up for you.
These can be some branches that are too heavy or too dangerous for you to move from your driveway, or a tree that seems just about to fall because of the damage it sustained from the storm. If you have trees that seem to be unstable, you need to call us immediately, so we can help you protect your property and the lives of the people that you love.
You may be tempted to fall the tree on your own, or to remove the large branches and limbs. We do not encourage this, because we've seen the extensive property damage that it can do when a tree is not taken cared of properly. You can destroy your car, your property, and maybe even endanger yourself in the process! This is certainly something that you should leave in the hands of experienced tree removal specialists who are insured and trained to do this as their profession.
When it comes to property insurance, note that we also deal with many insurance companies, so we can help you in that process, too. If you are making a claim on property damage, we can help expedite your request–and make sure that it's a favorable one.
Not convinced that removing a tree requires an expert professional? Take a look at this short video and see for yourself.
Contact Us
For tree removal, contact us by filling out the form or calling us at the numbers above. We look forward to removing all the hazardous debris, so we can keep you, your loved ones, and your property safe. Remember: accidents can happen anytime, and as a rule, it is always better to be safe now than to be sorry later!