Kennesaw Tree Removal
As a home owner, you may have tree damage from recent storms in the Kennesaw area. If this is the case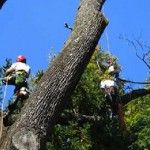 , you can contact us directly for emergency tree removal Kennesaw services.
A downed tree can lead to dangerous situations, especially if your yard is nearby to power lines, or other electrical wires. And if you have downed tree branches and limbs on your driveway, this can cause damage to your cars, or potentially injure a family member or visitor.
If you notice loose branches hanging over the roof of your home, this may seem like a minor problem, but if it is not taken care of can lead to major roof damage, which will end up costing you hundreds, if not thousands of dollars of repair work.
Regardless of the extent of the problem, when you need emergency tree removal in Kennesaw, you can rely on our team of professional licensed, bonded, and insured specialists to come to your home, and clean up the damage.
Whether it is just a couple of good-sized branches that you do not have the time or ability to remove, or a large tree that looks unhealthy or unstable and is threatening to cause more damage to your home and property, our Kennesaw tree removal specialists will take whatever action is necessary to protect your property and clean up the area.
Whatever the case may be, we strongly encourage you not to try and take down a tree or large limbs and branches on your own! We've seen far too many people think that they can cut down their own trees, only to cause extensive damage to their homes, cars, property – and even themselves! This is definitely a job that you should leave to an experienced (and INSURED!) professional.
And speaking of insurance… Please remember that we work with insurance companies every day. We can definitely help you work with your insurance agent to make sure any claims are handled quickly and in your favor!
And just in case you're still not convinced, watch this short video below to see what happens!