Acworth Tree Removal Specialists
Beautiful looking shady trees can sometimes become a threat to your safety and well-being. In such situations,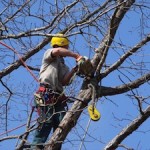 do not hesitate to call emergency tree removal Acworth GA.
With 20+ years in the "tree business", SCS Tree Service is in the best position to help you out when you need an experienced and affordable tree removal specialist.
We employ certified arborists who are insured, licensed, and bonded to work at your home or commercial property. Our emergency tree removal services are available 24 x 7, which ensures complete peace of mind and tremendous value for the money spent.
Whenever you feel that a tree is becoming a threat to yourself, your family, or community, simply call us. Our specialists evaluate the problem on site and determine the safest and most efficient method of removing the tree and/or branches. After a thorough evaluation of the situation and identification of any potential risks, we will discuss with you the various options available and detailed estimates. We will work hard to ensure that all the options will remain well within your budget!
Regardless of whether it is an immediate emergency or not, we are ready to help with any type of tree service situations you may have. Email or call us for fast and efficient service for any kind of tree removal Acworth.