Safe And Professional – Best Tree Removal Roswell GA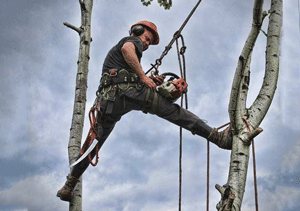 How many times do you look in your garden and see a tree or large bush that is either dead, dying, or just needs cutting back? Surprisingly, quite a lot of people will have a problem tree removal situation that they need to attend to. In most cases you will find that the tree has just grown too big, and needs cutting back, or cut-down, but in some cases, things like storm damage, drought and disease can kill them off.  Occasionally, you may have people who knock on your door asking if you need anything done to your garden, but unless you have actually researched, and called a professional Roswell tree removal company, then you should always turn these people away.
The problem with damaged or dead trees, is that they can break or fall over, and this may cause damage to the surrounding area, or worse, hurt someone. The removal of damaged trees is important for safety reasons, but it should only be carried out by a professional Roswell tree removal company, such as our own SCS Trees.
The people we employ are all fully trained, with many years of experience. All work crews are bonded and fully insured, and any tree removal job they undertake is completed in a safe and professional manner. The protection of your house and property is the number one factor in the work they are planning to do. Our company has been in business for many years, and we take pride in our reputation.
So what are the essential points when it comes to our tree removal Roswell GA business? Well the customer always comes first, and we go out of our way to ensure that the job we do is exactly as requested. We are also pleased to answer any of your question when you call us.
Insurance and Bonding
If you were to hire the people who just turn up on your door step, and during their work a large branch came off and landed on your car, or house, then it is likely that they would not be covered for the costs. Worse still, what if they killed someone? Our professional work crews are all fully bonded and licensed for work on your property, and therefore covered. However, we have an excellent safety record.
Free Estimates
When you contact us, we will arrange a convenient time to visit your property, and discuss with you the work that needs to be carried out. The estimate for the job is free, and puts you under no obligation to have work carried out.
Trained Crew
The people that we employ for tree removal are all professionally trained, and must pass our high standards before they are allowed to work. Regardless of the size of the tree that needs removing, they will do the job safely, and without causing too much disruption.
Cleanup
Once the tree removal has been completed, all remaining branches, twigs, leaves and chippings will be cleared up for you. We do not leave anything lying around once the work has been completed. If you employed non-professionals, then it is likely that you will be doing the cleanup yourself.
No Surprises
When we issue you with a quote, then that is the price you will pay. There will be no additional surprises once the job is done.
If you want the best tree removal in Roswell, GA, then contact us today. You can fill out our short Estimate Request form on our Contact Page, or call us at 678-710-9935 at any time of the day or night for an emergency tree removal.
So if you have a tree in your garden that needs to be removed or cutback, then please contact us, and we will arrange to visit you for a free quotation. Our services are competitively priced, and you can rest assured that the job will be completed in a safe and efficient manner. By the time we have finished and cleaned up, you will never know that we had been there.