Tree Stump Removal Service
Call Us When You Need To Remove A Stump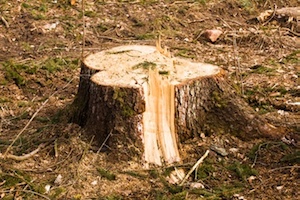 SCS Tree Service has been providing tree stump removal and tree stump grinding services to the metro Atlanta area for many years. As one of the area's premier tree service and tree removal companies, we tend to come across a lot of tree stumps each day!
Tree stumps are an eyesore and can even be dangerous in many places. They are also a natural attraction and breeding ground for many unwanted pests such as ants, termites and bees.
Whether it's for a tree that we have cut down ourselves, or one that you have cut, we are happy to provide some of the most competitive rates in town for our tree stump removal service. And if you have ever tried to cut or dig out a stump for yourself, you will appreciate the fact that this is definitely a job that is better left to the professionals!
We have the right tools for the job and the experience to get it done quickly and safely. So give us a call the next time you need someone to remove a tree stump from your yard or business.