Site Clearing and Grading
Ready To Tackle That Backyard Project?
You've been putting it off. For a long time. Maybe you just didn't know how easy and cost effective it would be t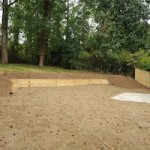 o finally get that back yard cleared of all of the trees and brush and overgrown weeds.
But the time has finally come!
SCS Tree Service is not only an expert at providing tree removal and tree services. We're also highly skilled at operating grading equipment – Bobcats, tractors, backhoes, etc. We can help you clear away all of that growth and underbrush in just a matter of hours – so you can quickly begin converting all of that land into that beautiful garden or lush lawn that you've been dreaming of.
Or maybe you need to build a retaining wall back there?
We can even help you lay down new sod to get you started quickly and with minimal effort.
No job is too big or too small! So why don't you go ahead and give us a call right now to get a free, no-hassle estimate on whatever site clearing and grading work that you need done!