Grading and Cleanup Services
Grinding, Grading & Cleanup Services
Are you ready to lay some topsoil or new sod? Finally building that dream deck? Do you have water drainage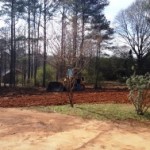 problems? SCS Tree Service can help you finally get that overgrown and out-of-shape yard back under control!
We are proud to provide some of the most competitive prices in town for all of your heavy landscaping and  property preparation projects.
Some of our Cleanup Services include:
If you're ready to finally tackle those "big" backyard projects that you've been putting off for the last few months (or years??), please contact us today to see just how affordable it can be!