Emergency Tree Removal Services
Emergency Tree Removal Service for Fallen and Hazardous Trees
We are ready 24/7 to handle any emergency tree removal service!
Call us now at 678-710-9935
The experts at SCS Tree Service are always ready to help you in the event of an emergency tree removal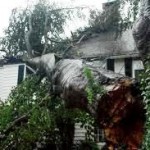 situation – offering 24-hour emergency tree removal services. Nature is unpredictable, but you can count on us to be timely, knowledgeable and reliable if storm damage comes your way.
If you already have a tree down, we can provide emergency tree removal service and handle tarping and other damage mitigation services. Then, we're happy to provide you with a referral to one of the many additional services you may need –  roofer, siding repair company, or other home repair companies that can put your home in order again.
When a tree has fallen on a fence or outbuilding, we can remove the tree and refer you to expert and reliable local contractors who can make repairs, even if the outbuilding or fence damage was from a neighbor's tree. Neighbors can be a pain in situations like these, but they'll be happy to see that something is being done. Sometimes, bad neighbors provide our best referrals when they see the quality of our work. We can even point you to a local fence company, if that's what you need.
In cases where a tree has hung up in other trees, you could have an emergency tree removal situation on your hands. That's because the tree could fall on your home or elsewhere on your property — or damage a neighbor's fence or outbuilding. This kind of tree removal job takes priority with us, and we can usually do it the same day or the next day.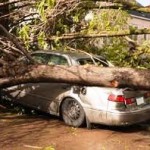 If one of your trees unexpectedly falls or you find yourself in need of emergency tree removal, you can count on SCS Tree Service. A fleet of specialized vehicles and state-of-the-art equipment operated by highly skilled staff will be deployed to handle your tree removal emergency.
Please keep our Contact Information handy just in case you might need it one day after the power has gone out!
Call us at 678-710-9935 for any emergency tree removal situation!
High Priority Service Areas Include:
All of Cobb County
All of Cherokee County
(Other surrounding areas also serviced as our schedule allows)