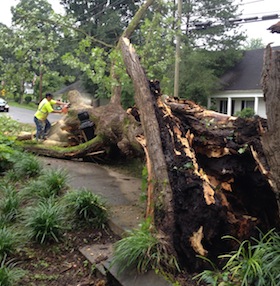 If your yard has been the victim of a storm, disease, or simply one of the droughts, you may need to get some trees removed or cut back. In fact, you might have already had a few guys knock on your door to offer you this service. Maybe these guys had a truck and a chainsaw, but are they really tree removal professionals? You should know that tree removal can be a risky and dangerous job, and it is best left to professionals who work for reliable businesses. You need a top Acworth tree removal company like SCS Trees.
If your trees have been damaged or even killed by disease, lack or water, or a severe storm, you may need them removed before they fall and injure somebody or damage your property. But you need to be sure that the process of removing those trees does not cause even more damages or injuries.
This is why you need to contact the best tree service company in Acworth GA for assistance as soon as possible. Our fully trained and insured work crews can get your job completed promptly, professionally, and correctly. Our crew understands that your property is valuable, and they are fully committed to safety for themselves and for the people in the home. We have been in business for a long time because of this commitment to safety, property, and our customers.
What should you look for in a top Acworth tree removal company? Please consider a few things about our company. Hopefully, these reasons will give you the incentive to pick up the phone and give us a call.
Free Estimates: We will meet you at your property to evaluate your needs and offer you a free written estimate. This estimate will not obligate you to use our services, but it will give us a chance to meet you.
Insurance: Those guys that show up at your door may not be insured. What happens when their inexperienced crew drops a tree limb on your roof or your dog house? Our company never plans to have an accident, but you can rest assured that we hold maximum coverage because of our great safety record.
Trained Crew: Our workmen are all fully trained. They know how to remove heavy trees and limbs. They also know how to treat each property owner like our most valuable customer. Expect them to be committed to preserving the value of your property, everybody's safety, and your respect for our company. You will not mind it when these guys show up in your yard.
Cleanup: Have you ever had tree removal done and found a bunch of debris left on your property? Did you have to pay somebody else to haul it away afterwards? That's what happens when you employ non-professionals. Expect to have your property cleaned up after we leave.
No Surprises: Each job will be fully described in our written estimate. You will not have to worry about hidden costs when it comes time to pay the bill either.
Call On Us For The Best Tree Services in Acworth GA
Simply contact us to schedule a free estimate at your own home or other property. Our professional representative will be happy to discuss your job and present you with options that can fit your needs and budget. You do not want to leave dead and damaged trees on your property, but you do not want to take risky shortcuts either. Our company can clean up your yard and make it look like we were never even there afterwards.
Contact us HERE to get a free, no-hassle estimate today!