How To Get Affordable Quality Marietta Tree Removal
As a homeowner you have a lot of responsibility to maintain and take care of your property. Not only with things like painting the house and mowing the lawn, but there's proper tree care also.
Some trees if not correctly taken care of can grow out of control and cause serious safety concerns. Trees need to be properly pruned and frequently assessed by an arborist. If the tree is dead or dying it can fall or start loosing limbs that may cause injuries to people or damage your property.
Caring for your trees and property can be a lot of work. Our top rated Marietta tree service experts are very knowledgeable and will do a walk through of your property with you to give you a free evaluation of your trees' conditions.
We are dedicated to providing the best tree care for both commercial and residential customers. SCS Trees has been a family owned business serving the north Georgia area for many years and is committed to delivering affordable tree care solutions to the local community.
Signs Of An Unhealthy Tree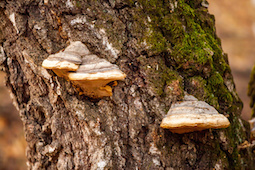 Learning how to recognize some of the problem spots yourself can be helpful. Here are a few signs of an unhealthy tree.
Discoloration of leaves like yellowing or browning around the edges, mushroom or fungi growth on the trunk of the tree, on the surface roots or at the base and infested with insects like small holes in tree trunk or several leaves with small holes in them.
Those are just some commonly noticed things on an unhealthy tree. So if and when things like this go untreated that's when the possibility of harmful damage can occur both to home and your property.
How To Properly Address An Unhealthy Tree
There are a few processes that could take place depending on what the situation is.
There's tree removal or felling, which is the process of cutting the tree down.
There's tree trimming, which is raising and lowering limbs or cleaning up deadwood out of the trees.
There's tree pruning, which is an all over haircut so to say, trimming and cleaning up dead limbs.
There's debris removal, which is removing trees, shrubs, limbs and logs from your property.
There's lot clearing, which is clearing up the property for landscaping in the future or for construction purposes.
There's stump grinding which is simply just removing the stump after the tree has been removed.
There's also 24hr emergency tree services in case there's a disaster or unseen storm damage emergency.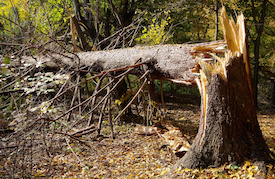 As you can see, a great deal goes into taking care of your trees and deciding if you have an issue with any of your trees and what process is needed to take care of the situation.
When in doubt, contact us today and we can answer any questions or help with any concerns you might have.
We will quickly schedule a time to come out and give you a free consultation so that you will feel confident in knowing you did your part in keeping your house and property safe and removed potential accidents and issues that may occur from unhealthy or damaged trees.