The Right Marietta Tree Removal Companies Can Do the Work Safely and Correctly
Marietta, Georgia, has a sub-tropical climate that is very conducive for growing trees and if you have property in this city, it is more than likely you will have tall trees growing there. Trees do require a fair amount of attention, which may require constantly trimming and pruning them so that they do not interfere with the home you have built. Occasionally, it may also become necessary to have trees removed, when they get diseased, die, cause problems to foundations and drainage, suffer storm damage and where you may require more space for building home extensions for your growing family.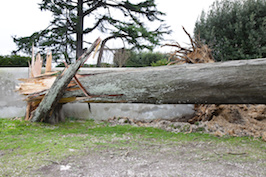 This is the time when you will need to take on the service of a marietta tree removal company who can take care of all the various aspects that come into reckoning when trees are to be removed.
Marietta Tree Services Have To Follow The Rules
Initially you must make sure that you are not contravening any local regulations by removing trees, and if permissions are needed you better get this done, before you have the tree removed. Our Professional tree removers in Marietta, Georgia will be aware of such requirements and may find it easier to see that any removal that you do follows local guidelines.
Insured Tree Removal in Marietta
When you appoint our professional company for tree removing, rest assured we are fully insured and licensed to carry out such works.
Tree removal can cause accidents to property or injuries to workers if they have to work at heights or even on the ground. Our fully insured Tree Company will see that you are protected and do not have to worry about the consequences of an accident.
Proper Equipment For Tree Services
Tree cutting requires more than the use of just a chainsaw and a truck to cart away the debris. The right company will also have other equipment like cranes to hold and remove the tree, scaffolding, safety equipment and other gadgetry, like grinders for tree stumps. Make sure that the company you appoint has the right reputation for carrying out such work speedily and safely.
The company you appoint may also need to have experienced tree care professionals who can inspect your tree, and evaluate if it is diseased, or may even be able to suggest ways of saving the tree, so that removal is not necessary.
Marietta Tree Pruning
Growing of trees correctly may also at times require them to be trimmed or pruned, to encourage their healthy growth. Our Professional tree service technicians will be able to do this easily.
We will bring in experienced and trained tree climbers, who will be equipped with climbing equipment, safety belts and climbing saws and Pole Pruners to do the necessary pruning to ensure that your tree remains in the best of health.
Proper Tree Removal
Tree removal requires all the branches and vegetation on the tree to be first removed, safely. The debris will then to be mulched and disposed of in landfills or other disposal spots for recycling. . In many cases trees grow to heights and widths that can cause them to be close to power lines, and SCS Trees knows the procedures to remove the offending branches safely.
SCS Trees has a wide variety of services available to the Marietta area that include everything from tree removal, tree pruning, kudzu and ivy removal, and brush clearing.  Contact us today for any services we can help you with.