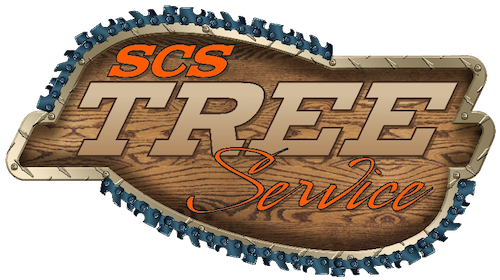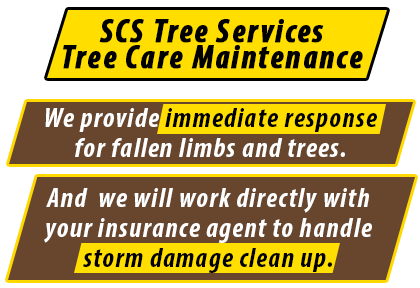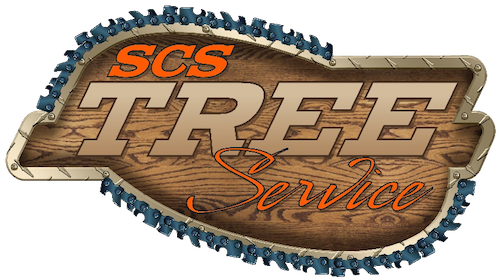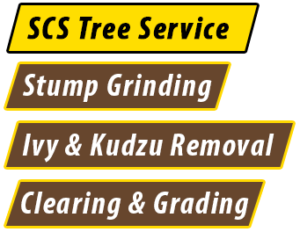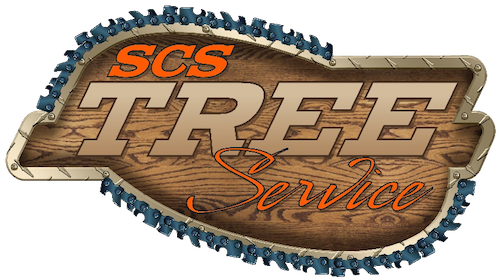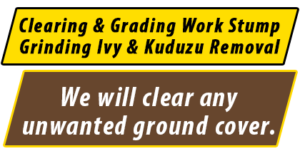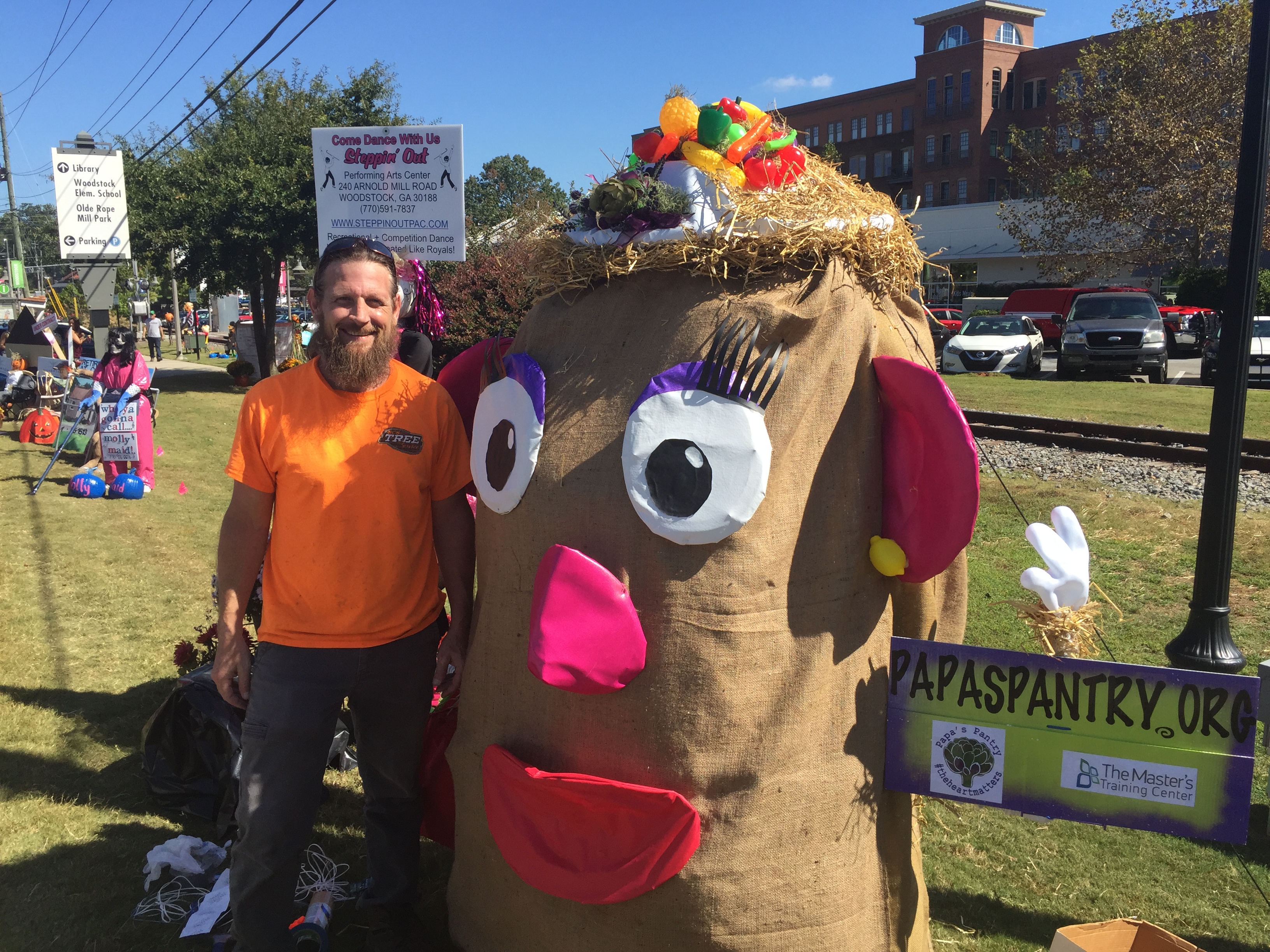 SCS Trees and Mrs Potato Head are proud supporters of Papas Pantry. Come to downtown Woodstock to see our Scare Crow and learn more about the Papas Pantry and their charitable organization.
Welcome to SCS Tree Service: The Trusted Tree Service Company in Georgia
Who Are We?
Welcome to our website! We are SCS Tree Service, a professional and friendly company that offer affordable local tree service. We are an all-American company, and you can trust us to be reliable, honest, hardworking problem-solvers. Plus, we come highly recommended by our previous customers.
SCS Tree Service was set up by our founder and owner, Shannon Bigger. Having grown up in the Upper Peninsula of Michigan, Shannon served in the USMC for 4 years when he turned 17. Luckily for us, Shannon also has a long history in the tree industry. He owned his own Cedar Log Home company and he worked closely with his brother and father, who operated a cedar mill. After moving to Georgia, Shannon saw the need for a tree service company that provides quality and which people could trust.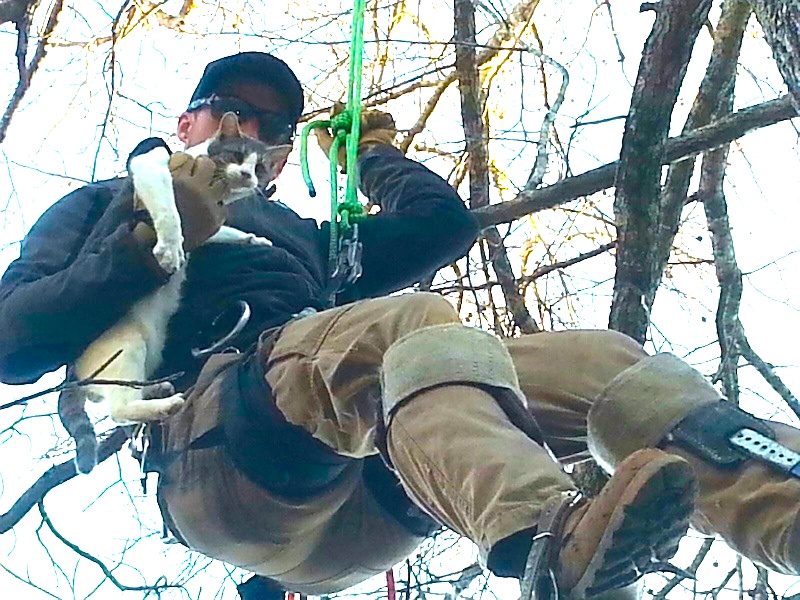 Apart from our owner, we also have our project manager who ensures that we provide the best service. His name is Kyle Dutcher. Kyle has been in the tree service industry for over 15 years and is currently the head of production and our chief Bobcat operator.
Finally, we wouldn't be a business without our company mascot, George the dog. George was only 2 months old when he was found in a pile of wood. He's the biggest SCS Trees fan, and our most loyal supporter too!
There's one last important thing you should know about us. Here at SCS Tree Service, we are proud to support our armed forces.
At SCS Tree Service we specialize in tree services and tree removal in Marietta, GA, Acworth, GA, Woodstock, GA, Kennesaw, GA, Canton, GA and most areas in Cherokee, Cobb and Fulton Counties. We know the importance of proper tree care and maintenance and offer our services at an affordable price.
What We Offer You
Trees are an important part of any landscape, but they need to be cared for and unfortunately, in some circumstances they need to be removed. We offer a variety of services that can be tailored to suit your needs.
24/7 Emergency Tree Service
Our emergency tree service is 24/7. You can call us at any time of day or night to tackle any emergency tree removal situation you might have. We have a specialist crew in Marietta, GA who are trained disaster management experts. They understand how to deal with insurance companies and can help to take care of everything for you.
Tree Removal
The way we remove your trees will depend on your circumstances. Sometimes, we can drop a tree where it stands, other times we will need to send a scaler up the tree to drop it in parts. In the worst-case scenario, we will even hire a crane to remove hazardous trees. You can be sure that whatever your needs, we will be able to find a way to complete the job for you, safely and within budget.
Tree Pruning
Tree pruning is important to make sure that your trees don't spill into neighboring properties, or your own home! If you use our tree pruning service, we will trim back branches to allow proper growth and also remove any dangerous limbs. This will give your landscape a perfectly manicured look and stop any potential lawsuits from disgruntled neighbours. During our tree pruning service, we will clean the inner canopy which will stop the tree from blowing over and increase its wind resistance during a storm.
In our tree pruning service, we can also provide so many more options. We remove dead, dying or diseased low-vigor branches from the crown of the tree, and we can remove select branches to increase light penetration and reduce weight on heavy limbs. We can remove the lower branches to provide clearance for buildings, pedestrians and vehicles and we can also reduce the height and spread of a tree.
Stump Grinding
Tree stumps can be very unsightly, they can also be very dangerous and difficult to remove. Tree stumps can also be a natural attraction and breeding ground for unwanted pests like ants, termites and bees. If you've ever tried to cut out or dig out a tree stump on your own, you'll know how difficult it is and definitely better left to the professionals. Whether it is a tree we've cut down ourselves or one you've cut down, at SCS Trees, we will grind and haul away the stump.
Ivy & Kudzu Removal
For those who aren't aware of what Kudzu is, it is considered the biggest threat to trees and plant life in the Georgia area. If it's left unchecked, Kudzu and other forms of ivy can take over an entire area of land and literally strangle the life from your trees. If you suspect that you have any Kudzu or ivy growing on your property, you need to take action immediately. We are experts and have a great deal of experience and knowledge in this area and you can be sure that we will completely rid your property of the problem.
Clearing & Grading
Our expert Bobcat operators can grade your yard to even the most exacting specifications. We can remove any shrubs, trees, logs and limbs from your property to get your property ready for construction or landscape development. We ensure that we deliver your property ready for your project on schedule and within budget. No matter how big or how small, we've got you covered.
We understand that every project is different, that's why we price everything on an individual basis. When we offer you a quote, we give you a comprehensive plan, detailing exactly what we'll deliver and in what time frame. You can trust SCS Trees to deliver a realistic, accurate and cost effective quote.
Why Should You Choose Us?
We are a locally owned, professional company who have more than 20 years' experience in the tree service industry. We are a fully insured tree service company, and we make sure that everyone is covered. Even removing branches can be very dangerous, let alone removing the whole tree.
It could be one of the worst mistakes you make to choose a company who aren't fully insured to perform any tree services at all. If the company aren't insured, you could be liable for any damage, accidents or injuries that occur.
That's why you can trust SCS Trees, because we've got you covered in that department!
As well as being fully insured, we are also fully licensed. SCS Trees has also been accredited and verified by HomeAdvisor as a screened and approved tree service contractor.
Copies of our current Liability Insurance and Workers Compensation Policies can be found HERE
From emergency tree removal to pruning and trimming, SCS Tree Service is the best choice for professional and efficient service.
The Many Benefits of Having Trees!
Having trees around your property has many benefits! They add a lovely, natural appeal to the area while at the same time being understated. They give you a constant flow of fresh air, keep you shaded in the height of summer and if taken care of properly, they can add 5% – 20% to your property value! Simply put, we all need trees in our life.
Social
The human response to trees is more than just admiring their beauty. They make us feel serene, restful and tranquil. The benefit of having trees doesn't just stop at home though. Even in the workplace, they can help to reduce fatigue, workplace stress levels, calm traffic and even decrease surgery recovery time! Surprisingly, people often become personally attached to certain trees, especially those you, or someone you love, have planted.
Communal
Even when they are on private lots, the benefits of trees can spread out into the surrounding community. They provide privacy, emphasize views, block particularly ungainly sights and can provide background to soften, complement and enhance architecture.
Environmental
This one's a no brainer! Trees improve our air quality, reduce stormwater runoff, give wildlife somewhere to live and can even alter the wind speed and direction.
Economic
As we've said, properly landscaped properties are valued at 5% to 20% higher than those which have poorly maintained gardens. Who doesn't want their property to be worth more?
What you need to bear in mind is that trees need maintenance. If you don't look after them, they won't look after you! Remember, tree care can be a dangerous job so make sure you contact our professional tree service company to help.
Get in Touch
Whether you have a problem tree that you need us to look at, an upcoming project that requires any of our tree services, or if you have an emergency tree situation that needs immediate attention, make sure you contact SCS Trees.
We have glowing testimonials from our previous customers and can provide you with a no obligation quote. To get started, look no further than SCS Tree Services for a quick, reliable, friendly and above all, affordable tree service.
Please call us today to schedule your free estimate!
We Support Our Armed Forces!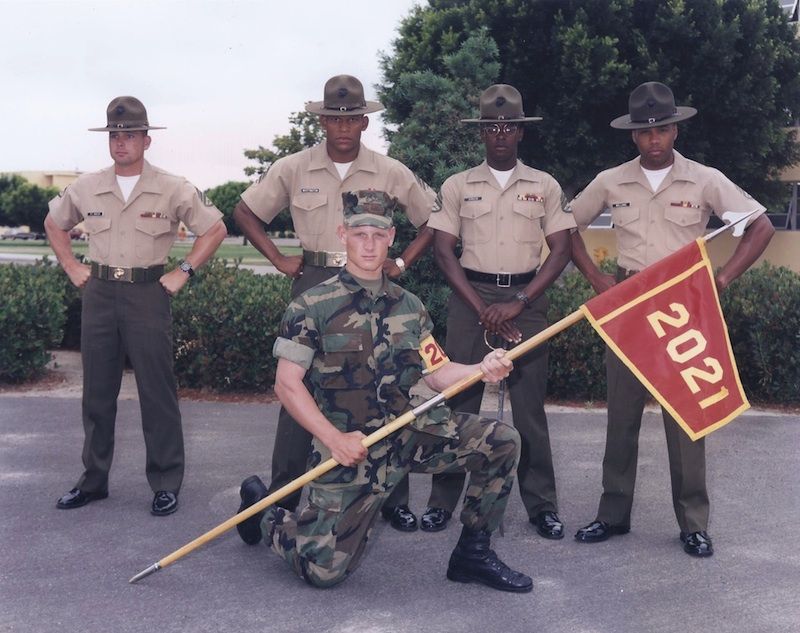 SCS Trees Owner Shannon Bigger serving in Marines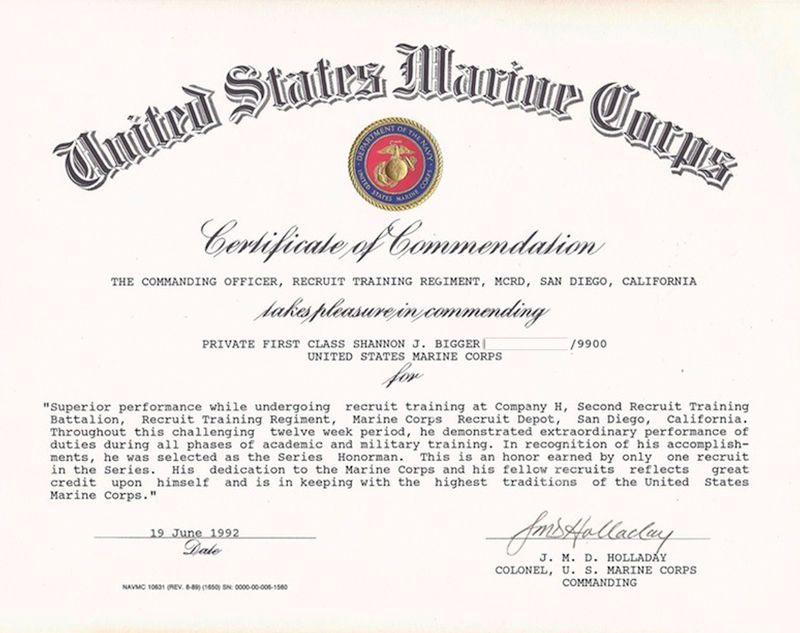 Shannon's Marine Corps Commendation
Click to View Our Accreditation